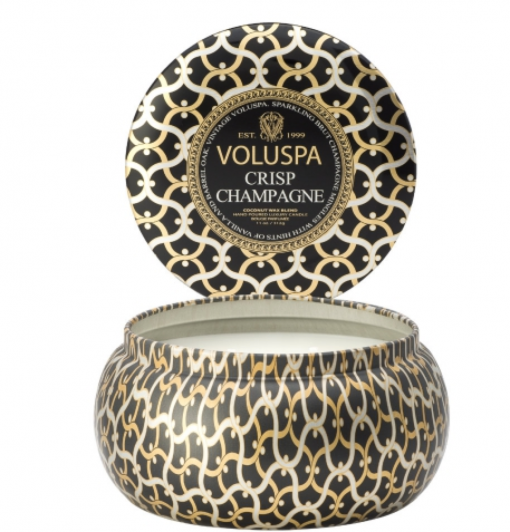 MAISON METALLO CANDLE – CRISP CHAMPAGNE
VOLUSPA'S SIGNATURE HOME COLLECTION.  A MODERN MIX OF VINTAGE SHAPES AND POP COLORS, VOLUSPA'S MAISON COLLECTION IS A COMPLETE OLFACTORY PALATE.
THE MAISON METALLO CANDLE IS ADORNED WITH VINTAGE TURKISH SWIRLS IN LUXE GOLD AND FILLED WITH 11OZ. OF HIGHLY FRAGRANT COCONUT WAX. DESIGNED WITH A DOUBLE WICK CONFIGURATION TO GENERATE A GENEROUS WAX POOL WHEN LIT. TIGHT FIT LID CAN BE USED TO EXTINGUISH THE CANDLE WHEN LIT AND TO KEEP THE WAX DUST FREE WHEN NOT IN USE. PERFECT FOR TRAVEL.
RE-USE THIS ELEGANT CONTAINER FOR FLOWERS OR TRINKETS WHEN THE CANDLE IS GONE. MADE WITH NO PHTHALATES, NO PARABENS, NO SULFATES, NO ANIMAL TESTING AND 100% COTTON WICKS
CRISP CHAMPAGNE WITH NOTES OF SPARKLING BRUT CHAMPAGNE MINGLED WITH HINTS OF VANILLA AND BARREL OAK. VINTAGE VOLUSPA.
BURN TIME 50 HR
SCENT FAMILY GOURMAND