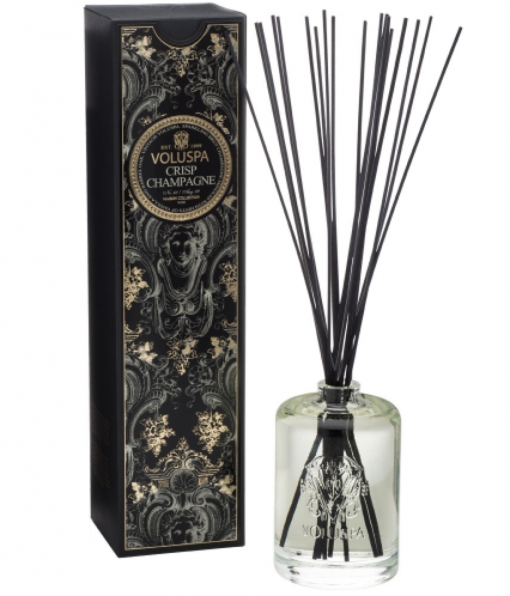 HOME AMBIENCE DIFFUSER – CRISP CHAMPAGNE
VOLUSPA'S SIGNATURE HOME COLLECTION.  A MODERN MIX OF VINTAGE SHAPES AND POP COLORS, VOLUSPA'S MAISON COLLECTION IS A COMPLETE OLFACTORY PALATE.
THE MAISON HOME AMBIENCE DIFFUSER IS UNIQUELY DESIGNED WITH 18 FINE GAUGE RATTAN REED TO INCREASE FRAGRANCE DISTRIBUTION. MORE REEDS, MORE FRAGRANCE! PACKAGED IN A CRISP PAPER WRAPPED BOX WRAPPED WITH COLORFUL VINTAGE IMAGES COLLAGED TO ILLUSTRATE THE INSPIRATION FOR EACH MAISON FRAGRANCE.
MADE WITH NO PHTHALATES, NO PARABENS, NO SULFATES, AND NO ANIMAL TESTING. 6 OUNCES
CRISP CHAMPAGNE WITH NOTES OF SPARKLING BRUT CHAMPAGNE MINGLED WITH HINTS OF VANILLA AND BARREL OAK. VINTAGE VOLUSPA.
WILL LAST APPROX.4-6 MONTHS
SCENT FAMILY GOURMAND